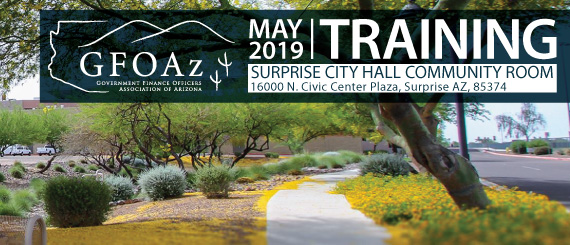 GFOAz May Training
Registration is now open for the GFOAz May Training!
The May Training will be held on Thursday, May 9 from 9 a.m. – 3 p.m. at the Surprise City Hall Community Room 16000 North Civic Center Plaza Surprise, AZ 85374
The training is $30 for members, $45 for non-members and includes 5 CPEs.
For more information and to register, please click here.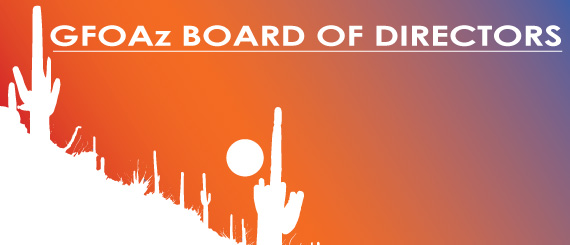 GFOAz Board of Directors
Welcome the 2019 GFOAz Board of Directors!
Elected to serve two-year terms as members at-large were Brandi Flores, Process and Policy Analyst, Surprise and Donna Meinerts, Finance Director of Apache Junction.
They join fellow board members-at large Christy Eusebio, Assistant Finance Director of El Mirage, Mindy Russell, Budget and Management Assistant for the City of Peoria and Ken MacFarland, Accounting Operations Manager, La Paz County.
The GFOAz Education Committee Chair is Kirsten Lennon, Accounting and Budget Manager for the City of Cottonwood and the GFOAz Membership Committee Chair is Jerry Hart, Retired Member.
The 2019 President is Sean Kindell, Deputy Finance Director for Peoria. He has served on the GFOAZ Board since February 2016 and serves on the GFOAz Membership Committee.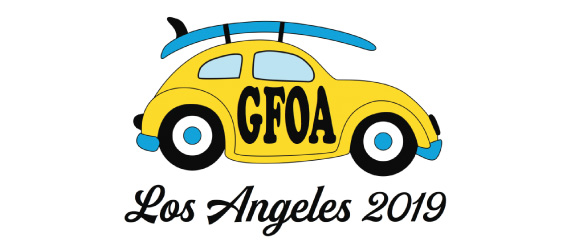 113th Annual GFOA Annual Conference in Los Angeles
The GFOA Annual Conference will be held May 19 – 22, 2019 in Los Angeles! The GFOA Conference is a great opportunity to meet with other public finance professionals, share ideas, learn about new programs and technologies, and take away new skills to bring back to your community. For more information and to register, please visit the conference webpage.
GFOAz Reception at GFOA
GFOAz is once again hosting a reception at the GFOAz Annual Conference!
This year's reception will be held from 5:30 – 7:30 p.m. on Sunday, May 19 at Prank Bar. Registration is free, but an RSVP is required to attend. Please RSVP here: https://www.surveymonkey.com/r/GFOA19
GFOA also offers scholarships to first-time attendees! 50 scholarships are offered per state and there are still scholarships available for Arizona. If you have not attended in the past and are interested in going this year, please visit the scholarship page.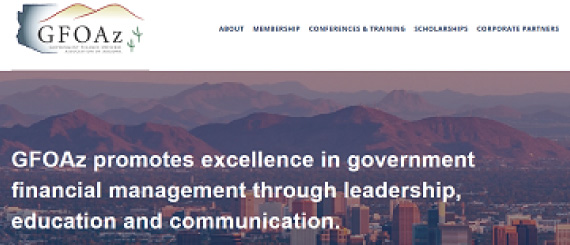 New Website
Have you checked out the new GFOAz website? GFOAz members were sent an email with instructions on setting up their new account. If you did not receive an email, please go to the website login and select "forgot password". An email will then be sent to you for account set up. This email will be from "WordPress" so make sure to check your junk/spam folder. All membership usernames will be the email provided for membership.
The new website has an exciting new feature- a discussion board. This means you will be able to pose questions to other members or provide advice. Once logged in, you will be able to view the discussion board or add a new topic.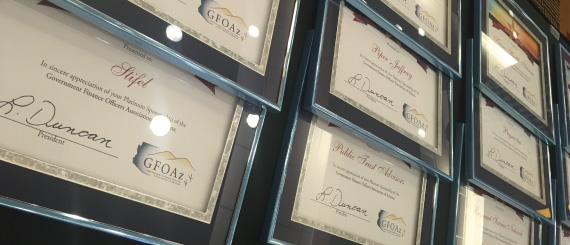 Thank you to our GFOAZ Sponsors!
Thank you to our GFOAz Sponsors for their continued support of our organization, trainings and conferences! We appreciated having so many attend at the Annual Winter Conference and are looking forward to networking with them at the Summer Conference in Tucson.
GFOAz Sponsors help GFOAz provide high-quality, affordable training events and conferences to government finance professionals throughout Arizona. Their support also enables GFOAz to maintain a strong professional network and share information and knowledge quickly and effectively.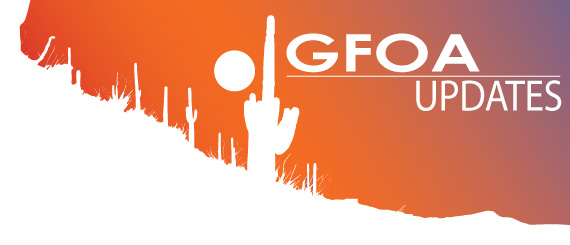 GFOA Updates
GFOA Member Facebook Group
You can now connect with GFOA and our members like never before by joining the new GFOA "Members-Only" group on Facebook. This group will allow you to easily interact with members from across the United States and Canada and GFOA staff.
All you have to do is click here and log in to Facebook to join.
GFOA Best Practices
GFOA Best Practices identify specific policies and procedures that contribute to improved government management. They aim to promote and facilitate positive change or recognize excellence rather than merely to codify current accepted practice. GFOA has emphasized that these practices be proactive steps that a government should be taking. Best practices are applicable to all governments (both large and small). Best practices are approved by the GFOA executive board and represent the official position of the organization.
View a full list of GFOA'z Best Practices here: http://www.gfoa.org/best-practices
Volunteer with Education and Membership Committees
If you are interested in becoming more involved with the GFOAz Education or Membership Committee, there are plenty of opportunities available. If you are interested in volunteering with the Education Committee to help plan future conferences and trainings, please contact Kirsten Lennon, Chair of the Education Committee at klennon@cottonwoodaz.gov. If you are interested in reaching out to organizations to increase and maintain GFOAz membership, please contact Jerry Hart, Chair of the Membership Committee at jerryhart1@cox.net.
Connect with GFOAz
Stay connected with GFOAz! Follow us on Facebook, Twitter and LinkedIn for all GFOAz updates and join the GFOAz LinkedIn group to share inquiries, post jobs, and network with other GFOAz members.
Click here to follow us on Facebook, click here to connect on LinkedIn or follow us on Twitter @GFOArizona!
GFOAz Members on the Move
Do you have a recent promotion or transition that you would like to announce? This section of the newsletter recognizes members who have recently been promoted or have recently transitioned. If you would like your name to be featured in this section of the newsletter, please contact Samantha Womer at 602-258-5786 or email: swomer@azleague.org.

GFOAz Welcomes New Members
Stephanie Adams
Business Integration Manager
City of Casa Grande
Sandra Armstrong
Accountant
Town of Carefree

Jaime Barr
Business Analyst
City of Casa Grande

Julye Barton-Todacheenie
Senior Accountant
Navajo County

MaryEllen Binder
Financial Specialist
City of Mesa

Dianna Claassen
Fiscal Services Manager
Water Infrastructure Finance Authority

Leslie DeReche
Senior Finance Analyst
City of Scottsdale

Catherine Dixon
Budget & Research Analyst
City of Chandler

Teddy Dumlao
Budget Manager
City of Chandler

Irina Ermakova
Finance Manager
Town of Prescott Valley

Kelleen Haney
Senior Accountant
City of Winslow

Stacy Hart
Accountant
City of Casa Grande
Daniel Hellman
Accountant
City of Flagstaff

Alicia Jones
Accountant
Town of Queen Creek

Steve Kelly
Assistant Director, Investments
The University of Arizona

Julie Knowlson
Accounting Specialist II
City of Mesa

Toni Lindsay
Operations Manager
Yuma County

Jacque Martinez
Accountant II
City of Maricopa

Jill Olsen
Administrative Services Director
Lake Havasu City

Sonia Olveda
Senior Account Clerk
City of Casa Grande

Angele Ozoemelam
Financial Services Manager
City of Maricopa

Sheryl Ralph
Accountant Senior
Mohave County

Veronica Ramirez
Budget Analyst
City of Casa Grande

Mary Reynolds
Interim CFO/Town Clerk
Town of Youngtown

Diane Rodgers
Accounting Specialist II
City of Mesa

Ryan Rodney
Chief Financial Officer
Arizona State Hospital

Andrew Salazer
Loan Officer
Water Infrastructure Finance Authority

Christina Sandsness
Director of HR & Safety
Maricopa, Pinal Electrical District No. 3

Valeriya Sattler
Senior Accountant
City of Maricopa

Michael Shoemaker
Tax Audit Supervisor
City of Avondale

Alma Valles
Finance Officer
City of Safford

Nicole Weaver
Accountant
Gila County

Lupe Williams
Management & Budget Analyst
Pinal County


GFOAz Board of Directors
Sean Kindell
President
Deputy Finance Director
City of Peoria

Donna Meinerts
President-Elect
Finance Director
City of Apache Junction
Bonny Lynn
Past President
Retired Member
Brandi Flores
Member At-Large
Process and Policy Analyst
City of Surprise
Christy Eusebio
Member At-Large
Assistant Finance Director
City of El Mirage

Mindy Russell
Member At-Large
Finance & Budget Assistant
City of Peoria

Ken MacFarland
Member At-Large
Accounting Operations Manager
La Paz County
Jerry Hart
Membership Committee Chair
Retired Member

Kirsten Lennon
Education Committee Chair
Accounting and Budget Manager
City of Cottonwood

Job Postings
Senior Accountant
Senior Budget Analyst

Calendar of Events
GFOAz May Training
May 9, 2019
Surprise, AZ

GFOA Annual Conference
May 19 – 22, 2019
Los Angeles, California

GFOAz Reception at GFOA
May 19, 2019
5:30 – 7:30 p.m.
Prank Bar
Los Angeles, California

GFOAz Summer Conference
August 7 – 9, 2019
Tucson, AZ


Sponsors