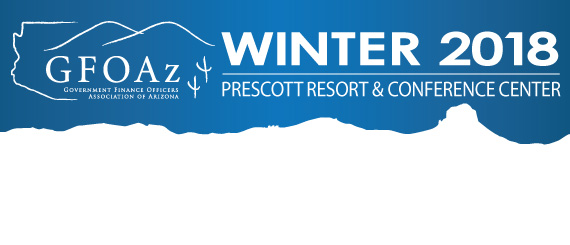 GFOAz Winter Conference
GFOAz is pleased to present the 2018 GFOAz Winter Conference held in Prescott, February 21 – 23, 2018!
Registration for the Winter Conference is now available.
Please click here to view the agenda, get hotel information and register for the conference.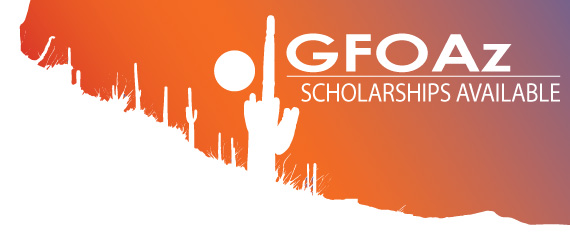 GFOAz Scholarships Available for Annual Conferences
In 2018, GFOAz will be offering two scholarships to the GFOAz Winter Conference, February 21-23, 2018, in Prescott. The association will also offer one scholarship to the annual GFOA (national) conference, May 6-9, 2018 in St. Louis, Missouri.
Applicants will be evaluated on years of public sector experience, potential for future public service, financial need, strength of application, participation in GFOAz and other items. The GFOAz Board will select the applicants.
Please apply for either the winter conference or national conference. Applications and/or nominations are due by January 12, 2018. To apply, point your browser here.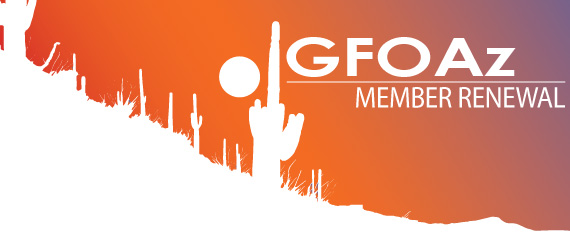 GFOAz Membership Renewal
Membership renewals for the Government Finance Officers Association (GFOAz) were due Friday, December 31. If you have not yet renewed your membership, please click on the link below to download the membership renewal form. Membership is good from January 1, 2018 – December 31, 2018.
2018 GFOAz Membership Renewal Form
Please complete the fillable form and remit your payment as soon as possible. You may pay your membership dues by check or credit card. Please send completed forms and credit card payment to league@azleague.org.
We value your membership to GFOAz and look forward to your continued involvement. If you have any questions regarding dues or membership, please do not hesitate to contact Samantha Womer at swomer@azleague.org or 602-258-5786. You may also contact Membership Committee Chair Jerry Hart at jerry_hart@tempe.gov.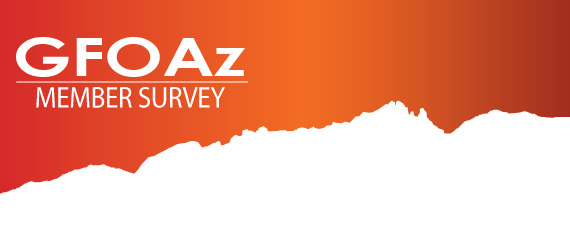 GFOAz Membership Survey
GFOAz wants your feedback!
Please help GFOAz continue to provide quality trainings and services for our membership! The GFOAz Board has developed a short survey to inquire from membership their opinions on current offerings and feedback for improvement.
Please take a few moments to provide your feedback by clicking here.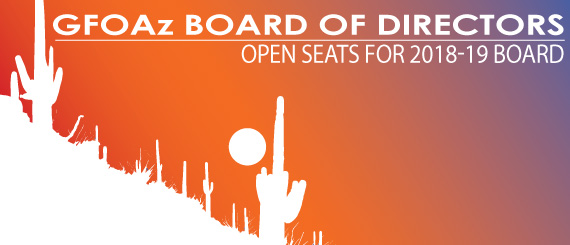 GFOAz Board of Directors – Open Seats for 2018-19 Board
A nine-member Board of Directors provides leadership and oversight of the Government Finance Officers Association of Arizona. The board includes the President, President-Elect, Immediate Past President, Chairperson of the Education Committee, Chairperson of the Membership Committee and four at-large directors.
In 2018, there will be two at-large director seats open. Any active member in good standing is eligible for election to membership on the board. An active member is defined as any public employee or elected or appointed official having responsibility for, or engaged in, the function of governmental finance in any public jurisdiction of the state of Arizona. The following members of the Executive Board are scheduled to remain on the board through 2018 to fulfill their terms:
Lindsey Duncan, 2017 President, Surprise
Bonny Lynn, 2018 President, Coconino County
Sean Kindell, 2018 President-Elect, Phoenix
Donna Meinerts, Member At-Large, Apache Junction
Mindy Russell, Member At-Large, Peoria
Kirsten Lennon, Education Committee Chair, Cottonwood
Jerry Hart, Membership Committee Chair, Tempe
If you would like to be considered, please submit a brief letter that includes: your name, title, organization, a brief summary of your experience and why you are interested in serving on the board.
Letters should be addressed to Lindsey Duncan, President of GFOAz, and may be mailed or e-mailed to GFOAz c/o Samantha Womer at 1820 W. Washington St. Phoenix, AZ 85007; e-mail info@gfoaz.org.
Letters of interest must be received no later than January 5, 2018. A summary of this information will be on the ballots distributed to active members January 12, 2018. If you have any questions about the election or nomination process, please contact Samantha Womer at 602-258-5786.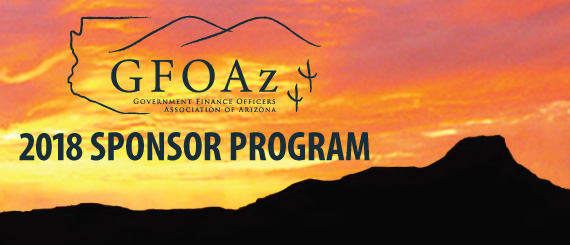 2018 GFOAz Sponsorship Opportunities
The Government Finance Officers of Arizona (GFOAz) promotes excellence in government financial management through leadership, education and communication. GFOAz Sponsors are essential in supporting GFOAz in providing affordable, high-quality workshops and conferences to Arizona's government finance professionals. To view the 2018 sponsorship program click here.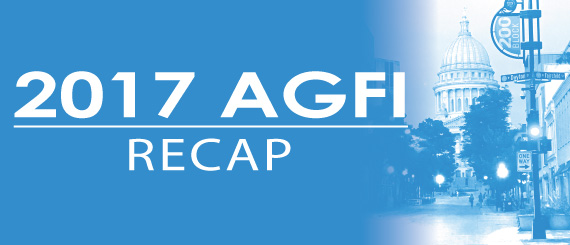 AGFI Institute Recap
Jeanette Parrales & Gil Villegas, GFOAz Scholarship Recipients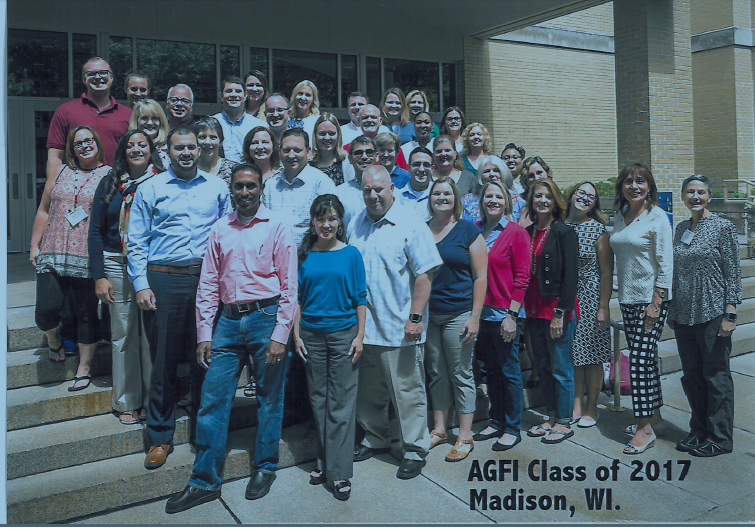 Jeanette Parrales, Finance Director, City of Nogales 
In August of 2017, I attended the GFOA Advanced Government Finance Institute in Madison Wisconsin. As a recipient of the scholarship awarded by GFOAZ, I was able to participate in this program held every two years. This one-week long program provided ideas, best practices and tips on how to enhance my leadership skills. During this time, I was able to interact with individuals from other states who face many of the same challenges as I do in providing leadership and mentoring to the members of the team which I work closely with every day.
The instructors were instrumental in working with the class to offer solutions as well as innovative ideas for us to take back and incorporate into our daily operations and interactions. Some of the classes offered included changing your thought process from "do and repeat" to "think and solve", professional goal setting and leadership skills. All of these classes have helped me to be a better finance director and mentor the team I oversee.
In addition to the classes, we were able to sightsee, visit historical landmarks around the city and learn about the Madison, WI. It was a rewarding and wonderful opportunity granted to me through the generosity of the GFOAZ board. I am eternally grateful to the board for having chosen me as a recipient and I am a proud member of the 2017 Advanced Government Finance Institute class.
Gilberto Villegas, Jr. Chief Financial Officer, Yuma County Arizona.
I would like to thank the Government Finance Officers Association of Arizona (GFOAz) Board of Directors for selecting me as a recipient of the GFOA's Advance Government Finance Institute (AGFI) scholarship. I'm honored to be selected among such qualified candidates. The AGFI was held at the University of Wisconsin (UW)- Madison, School of Business, which is one of our most beautiful and historic campuses in our nation.
I was impressed about how well organized and thoughtful the university and the GFOA were to accommodate for the 38 selected participants from all over the United States. Since arrival at our in-campus-hotel, everyone was well informed who we were and our purpose for the stay; it is clear both entities have plenty of experience providing this type of training.
I arrived late Sunday just in time for the informal reception and dinner GFOA's style; the mixer gave the class an opportunity to meet and share something about our community. I was very impressed with the caliber of the participants, each an executive manager, working with a local government in the Financial Services area. Knowing we all had a similar background, made it easier to share our work/community experiences and challenges. We quickly found some challenges were the same, but at a different scale. The 3 hours flew by quickly, most of us left eager to continue our conversations the next day, little we knew the entire day was already planned and accounted for.
Institute courses started early every day, Monday thru Friday and ended late with just enough time for a late walk on the grounds of the active campus. Program was very comprehensive, always focusing on leadership with plenty of round table discussions. Topics from Team Building techniques, by UW faculty, to Community Engagement and Leadership in the Public sector delivered by the GFOA's CEO, Mr Chris Morill.
One of the requirements was to present a Case Study to the class. The class was divided in smaller groups and the cases were careful crafted to represent the challenges governments are currently facing; revenue shortfalls, projects decision making, and pension fund issues. It was surprising to see that despite the government size, the challenges applied to each of us. It was also uplifting to learn we all had similar ideas to deal with the problems at hand. I was part of the Revenue shortfall and found out Boulder County in Colorado used similar techniques to address the same issue. I really enjoyed the classes and round table discussion, at minimum the networking is gain by itself. Overall, I think the common topic/challenge most local entities are facing now days is the lack of qualified and engaged professionals committed to public service.
Thursday was a short "class-day" the organizers took the class on a field trip to learn about one of Frank Lloyd Wright creations. Madison, Wisconsin is home to a building of the famed architect. It was very informative and educational to learn about the challenges the architect faced when tasked to build the church and how each piece of his work had a purpose and an intention so the visit would be more meaningful and enjoyable.
The AGFI provides a forum for managers and governmental officials to learn about broader issues facing governments, participate formulating possible solutions, and to enhance the leadership skills needed or necessary to better serve our community. It really forces you to think about your management style and your department's overall role within your local government.
I'm again thankful and honored to have been awarded the GFOAz scholarship to attend this valuable program.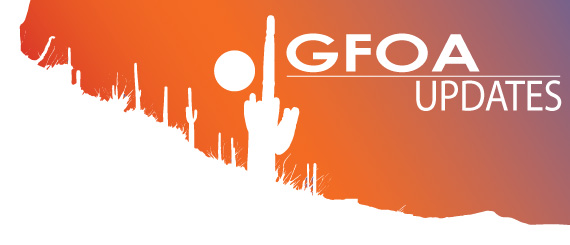 GFOA Updates
GFOA Member Facebook Group 
You can now connect with GFOA and our members like never before by joining the new GFOA "Members-Only" group on Facebook. This group will allow you to easily interact with members from across the United States and Canada and GFOA staff.
All you have to do is click here and log into Facebook to join.
GFOA 112th Annual Conference 
Go to the GFOA's Annual Conference webpage to access information about the conference as well as their mentorship program. Registration is now open!
Volunteer with Education and Membership Committees
If you are interested in becoming more involved with the GFOAz Education or Membership Committee, there are plenty of opportunities available. If you are interested in volunteering with the Education Committee to help plan future conferences and trainings, please contact Kirsten Lennon, Chair of the Education Committee at klennon@cottonwoodaz.gov. If you are interested in reaching out to organizations to increase and maintain GFOAz membership, please contact Jerry Hart, Chair of the Membership Committee at jerry_hart@tempe.gov.
Connect with GFOAz
Stay connected with GFOAz! Follow us on Facebook, Twitter and LinkedIn for all GFOAz updates and join the GFOAz LinkedIn group to share inquiries, post jobs, and network with other GFOAz members.
Click here to follow us on Facebook, click here to connect on LinkedIn or follow us on Twitter @GFOArizona!
GFOAz Members on the Move
Do you have a recent promotion or transition that you would like to announce? This section of the newsletter recognizes members who have recently been promoted or have recently transitioned. If you would like your name to be featured in this section of the newsletter, please contact Samantha Womer at 602-258-5786 or email: swomer@azleague.org.

GFOAz Welcomes New Members
Catherine Boland
Financial Accountant
Yavapai County
Michael Franchi
Accountant
City of Flagstaff
Catherine Hendrix
Senior Office Specialist
Town of Oro Valley
Debbie Motta
Senior Accountant
City of Chandler
Zachary Sakas
Attorney
Gust Rosenfeld P.L.C.
Ashlee Feliz
Financial Manager - Public Works
Pinal County
Amie Gressett
Management Assistant – Finance
City of Goodyear
Allison Mathees
Student
Arizona State University
Kelly O'Brien
Office Assistant
Mohave County
Stacey Tutt
Accountant
Town of Queen Creek
Ryan Fielder
Senior Budget Analyst
Town of Queen Creek
Graciela Hauvermale
Senior Accountant
Town of Oro Valley
Kenneth McFarland
MBA
La Paz County
Mathew Reams
Senior Accountant
Town of Queen Creek
Laura Wenc
Accountant III
Cochise County

GFOAz Board of Directors
Lindsey Duncan
President
Finance Director
City of Surprise
Benjamin Ronquillo
Past President
Finance Director
City of Litchfield Park
Bonny Lynn
President-Elect
Finance Director
Coconino County
Mindy Russell
Member At-Large
Finance & Budget Assistant
City of Peoria
Jerry Hart
Membership Committee Chair
Deputy Director - Financial Services
City of Tempe
Kirsten Lennon
Education Committee Chair
Accounting and Budget Manager
City of Cottonwood
Christy Eusebio
Member At-Large
Assistant Finance Director
City of El Mirage
Sean Kindell
Member At-Large
Deputy Finance Director
City of Phoenix
Donna Meinerts
Member At-Large
Finance Director
City of Apache Junction

Job Postings
Gila County
Finance Director
City of Flagstaff
Procurement Specialist
Cochise County
Budget Manager

Calendar of Events
January 11, 2018
Peoria, AZ
February 21 – 23, 2018
Prescott, AZ
May 6 – 9, 2018
St. Louis, Missouri